Need Assistance?
Contact us 24/7 at 1-800-561-8880 for support.
Equipment Supplied
| | | | |
| --- | --- | --- | --- |
| Hercules | Power Adapter | 2 Antennas | Ethernet Cable |
| | | | |
If any of the above items are missing please contact DPL.
Before You Begin
Activate the Hercules (if not pre activated) a minimum of two-days before installation by logging into the Hercules Portal at hercules.dplwireless.com , contacting DPL technical support at 1-800-561-8880, or by email at support@dplwireless.com .
Be prepared to provide the following information:
| | |
| --- | --- |
| • Company name | • Connectivity type (dial up or IP) |
| • Email address | • Transaction processor* |
| • Hercules serial number | • Message format to be used† |
*If the ATM is new to you, contact your transaction processor to set it up. † For IP only ATMs. Message format supplied by transaction processor.
To experience the full benefits of the Hercules platform, we strongly recommend performing the following actions once installation is complete.

Note: Customers onboarded before September 1st, 2022 may need to enable Hercules AI to experience the full benefits of the Hercules Platform.
Connecting the Hercules
Step 1
Connect the antennas to the Hercules by screwing the SMA connectors into the antenna jacks of the Hercules (hand tight).
Secure the magnetic mounts at the base of the antennas to a metallic surface or near the top of the ATM terminal in a vertical orientation (top of antenna's pointing upward).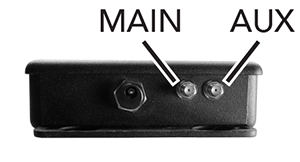 The MAIN antenna, connected closest to the power jack (pictured above) should be placed in the most ideal location. The AUX antenna should be placed a minimum of four inches away or more from the MAIN antenna. Ensure the antennas are placed away from electronics or other metallic objects that may cause signal interference.
Step 2
Connect the required communication cable (ethernet or telephone) from the ATM to the Hercules.
Step 3
Plug the power adapter into the Hercules and then plug it into an AC outlet. Verify the green Power indicator is lit on the Hercules.
Step 4
Verify the green ATM and SRVC indicators are lit indicating the Hercules is successfully communicating with DPL's data centers.
Step 5
Place the Hercules inside the safe of the ATM and lock the safe.
ATM Configuration
Depending on your chosen connectivity type, configure the ATM using the settings below:
IP
ATM
• Enable DHCP
or
• Static Settings:
IP Address: 192.168.0.55
Subnet: 255.255.255.0
Gateway: 192.168.0.1
DNS: 192.168.0.1
Note: For legacy Hercules modems, use Gateway IP 192.168.0.52
Host
Disable URL
Host Address (1&2): 192.168.0.52
Host Port (1&2): 8000
Disable SSL
Disable Permanent TCP/IP Dial Up ATM
Dial Up
ATM
Modem speed: 1200 baud or 2400 baud
Host
Host number: 555-0120
Note: For more detailed ATM manufacture specific non-TLS IP Terminal configuration settings click here.
Remote Management Software (RMS) (Optional)
Hercules Platform (Recommended)
Visit dplwireless.com/rms-config to access the configuration guide specific to your ATM manufacturer. For assistance contact DPL support.
Insights
In order for ATM Insights to work in the Hercules portal, ATMs need to have an additional option checked on their messaging format options. ATM Insights allow you to see graphed current and past cash level data, forecast refill dates, and set custom alarm levels.
Standard 1 requires: Terminal Status Enabled

Standard 3 requires: Enable Status Monitor
Having these options enabled passes up additional cassette and ATM status data through transactions and health checks so DPL can display this information for you.
Note: For manufacturer specific insights configuration instructions click here.
Recommended Next Steps
To experience the full benefits of the Hercules platform, we strongly recommend also performing the following actions once installation is complete.

Note: Customers onboarded before September 1st, 2022 may need to enable Hercules AI to experience the full benefits of the Hercules Platform.
Manufacturer RMS
For help configuring manufacturer RMS, please contact DPL's support team.
FCC Statement
Antenna Placement: Place antenna so a minimum of 8 inches is maintained between it and any person to limit RF exposure to within FCC guidelines. Note: This equipment has been tested and found to comply with the limits for a Class A digital device, pursuant to Part 15 of the FCC Rules. These limits are designed to provide reasonable protection against harmful interference in a commercial environment. This equipment generates, uses, and can radiate radio frequency energy and, if not installed and used in accordance with these instructions, may cause harmful interference to radio communications. However, there is no guarantee that interference will not occur in a particular installation. If this equipment does cause harmful interference to radio or television reception, which can be determined by turning the equipment off and on, the user is encouraged to try to correct the interference by one or more of the following measures: (1) Re-orient or relocate the antenna, (2) Increase the separation between the equipment and the receiver, (3) Connect the equipment into an outlet or a circuit different from that to which the receiver is connected, and (4) Consult DPL or an experienced radio/TV technician for help.
Warning
Changes or modifications not expressly approved by DPL could void the user's authority to operate the equipment.
Declaration
This equipment contains a radio module Gemalto ELS61-US or Gemalto ELS31-V. Refer to product label for FCC / ICAN numbers.
Electronic Devices
Most modern electronic equipment is shielded from radio frequency (RF) signals. However certain electronic equipment may not be shielded against the RF signals from the Hercules (LTE/HSPA) wireless modem. This should be considered before installing in sensitive areas such as Medical Facilities and facilities that ban the use of Digital Cellular Phones.
Trademarks and Copyright
Hercules/Hercules+ is a trademark of DPL. All rights to this publication are reserved. No part of this publication may be copied, reproduced, transmitted or stored in any form or by any means (including electronic, mechanical, photocopying, recording, or otherwise) without prior written permission from DPL.
Disclaimer
While all reasonable care has been taken to ensure that the description, opinions and text are accurate and workable, DPL does not accept any legal responsibility or liability to any person, organization or other entity for any direct loss, consequential loss or damage, however caused, that may be suffered as a result of the use of this publication or equipment.
Specifications
| | |
| --- | --- |
| Warranty | 5 years parts and labour. Details available from DPL. |
| Dial In Interface | Central Office POTS Line, RJ-11, 2400 baud v.22bis or 1200 Baud |
| Ethernet Port | Supports 10/100T speeds and straight or crossover cables |
| Interface Port | Custom port for Protector / Restart harness which is optional |
| Protocols Supported | VISA-2, Security Encoding: Triple DES |
| Network Services | 4G Data over LTE network with ability to fall back to 3G/HSPA (carrier dep.) |
| Power Supply Output | 12VDC, 2A, Center Positive, 5.5mm x 2.1mm |
| Power Supply Input | 100-240VAC, 50-60 Hz, 1.0 A Max |
| Dimensions (h w d) | 3.8 x 12.2 x 14.5 cm (1.5 x 4.8 x 5.7 inches) |
| Weight | 0.43kg (0.95 lb) |
| Packaged Dimensions | 5.715 x 27.94 x 15.24 cm (2.25 x 11 x 6 inches) |
| Packaged Weight | 0.976kg (2.15lb) |
| Operating Temp | -10 to 45 °C (14 to 113 °F) |