Need Assistance?
Contact us anytime at 1-800-561-8880 or email support@dplwireless.com.

Prerequisite
Configure your Hercules Modem and ATM by referring to the Hercules RMS Configuration guide specific to your ATM manufacturer and ensure RMS Access is enabled for your user account.

Accessing Electronic Journals
To access and export electronic journals in the Hercules Portal:
1. Select the Hercules RMS enabled ATM Terminal you wish to view electronic journals for from the device list.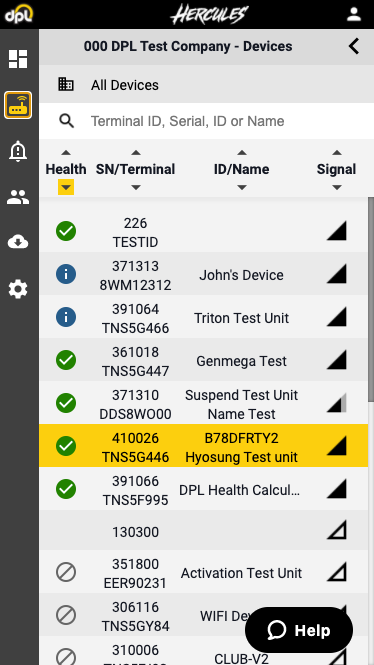 2. Select the RMS tab from the top menu navigation and scroll to the Journal section.
You can search/filter by:
The last 4 Digits of a card number

Journal ID

Transaction

Operation

Account
Or you can Select an electronic journal entry from the chronological list.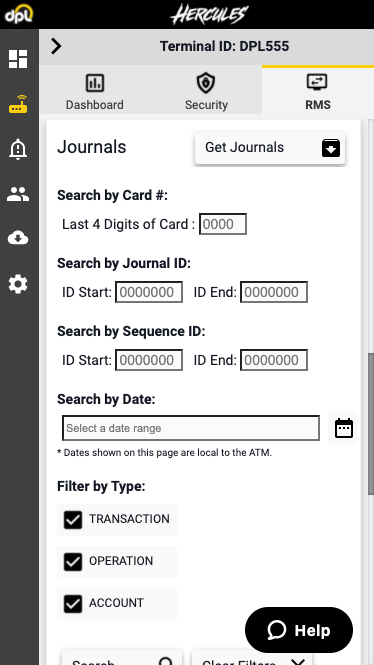 Exporting Electronic Journals
You can download all of the ATM's electronic journal entries to date by selecting the Download CSV File button beneath the chronological electronic journal entry list.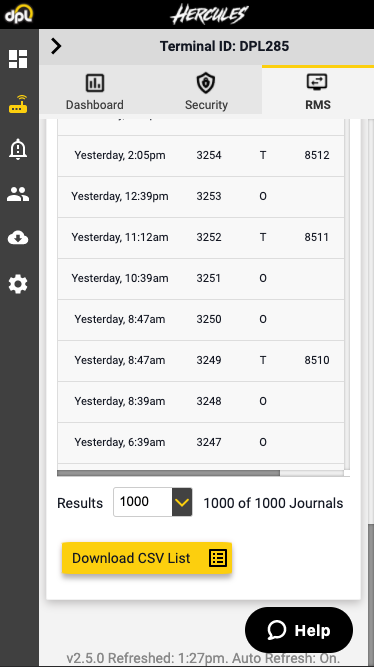 Note: If Hercules RMS was enabled within the past 24 hours, only the last 100 journal entries will be available for download initially. All previous journal entries to date will be uploaded to Hercules RMS as part of the first Automatic Journal Download during the scheduled Maintenance Window timeframe.

Exporting Individual Electronic Journal Entires
To export individual electronic journal entries:
1. Locate, then select the journal entry you wish to export from the list of entries to view more details and choose whether to export it as a .TXT, .CSV or .PDF. The file will automatically download to your system.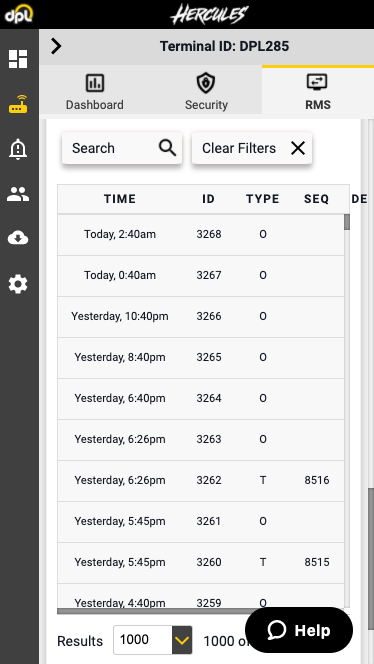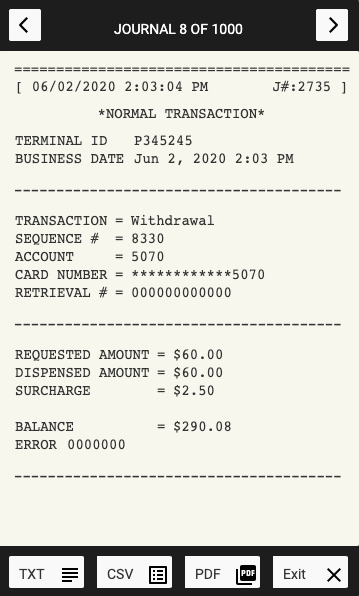 3. Choose whether to exit or to view the previous or proceeding electronic journal entries via the left and right arrows in the top corners of the dialogue box.
4. Once completed, select Exit to return to the main RMS section.