Need Help?
Contact us 24/7 at 1-800-561-8880 or email support@dplwireless.com.
Being able to configure company wide alarm suppression schedules may be useful, if for example you have a location receiving a high volume of false tilt/vibration alarms being triggered by foot traffic near your ATM during the locations business hours.
You can configure company wide alarm suppression schedules by type and alarm. Alarm suppression schedules can be customized daily or set to the same schedule every day.
To Enable Company Wide Settings and customize the suppression schedule in the Hercules Portal complete the following steps:
Step 1
Select the "Company Settings" icon from the navigation menu on the left.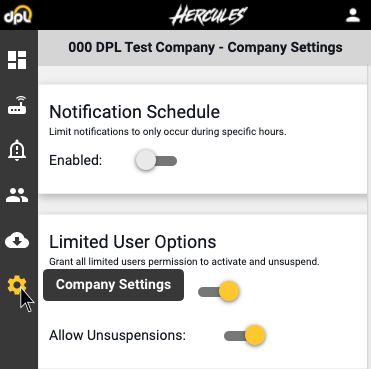 Step 2
Beneath "Notification Schedule" select the slider to the right of "Enable " which will cause it to turn yellow and slide to the right. This will allow you to limit notifications to only occur during specific hours.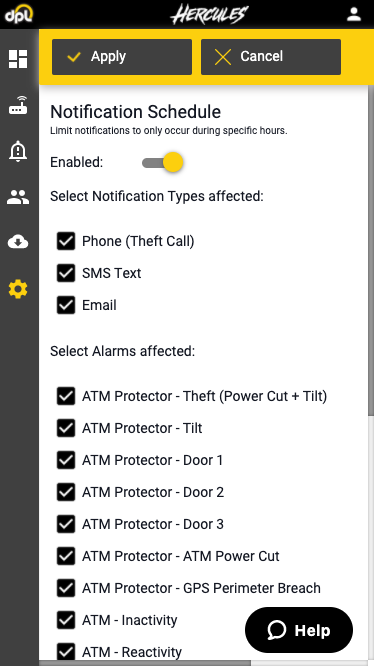 Step 3
By default all alarm types and alarms are auto selected. Deselect any alarm types or alarms you wish to still receive notifications for and leave any you wish to suppress selected.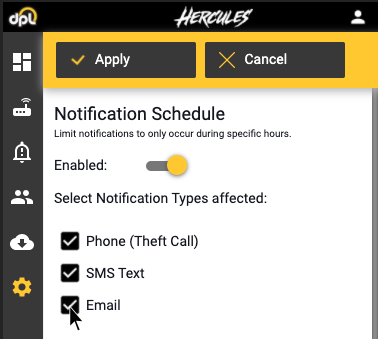 Step 4
Choose whether you want to suppress notifications during the same time period everyday or whether you want to "Set Days Individually".
Select the schedule to the right and enter the time period during which you want to suppress notifications.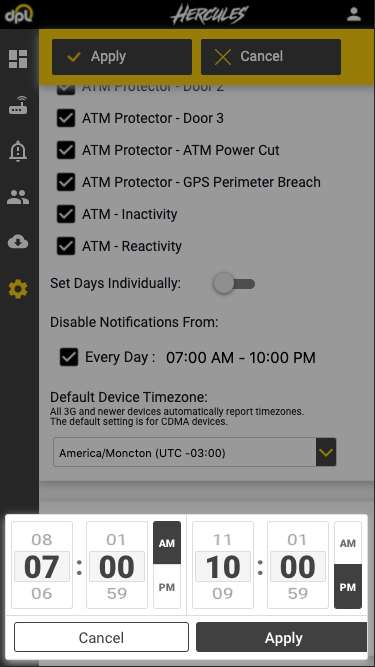 Step 5
Configuring the Default Device Timezone - 3G and newer Hercules modems automatically report their timezones based on the cell tower they're connected to. Configuring the Default Device Timezone will only effect any CDMA Hercules modems you may have in your fleet, which are unable to report their timezone.
To set the Default Device Timezone for CDMA Hercules modems select the drop down arrow to the right of the time zone zone input field and select the desired timezone.
Step 6
Once completed, select "Apply" to save all changes.