Need Help?
Contact us 24/7 at 1-800-561-8880 or email support@dplwireless.com.
Granting team members permission to activate or unsuspend Hercules devices can allow others to help manage your fleet. Limited Users can only access ATMs in device groups that are assigned to them. To learn more about how to create device groups click here.
When adding a Limited user to your account, you must also select the groups you would like them to have permission to access. Limited users will only receive alarms from devices in these groups. To learn more about how to add new users to your Hercules Portal account click here.
To configure Activation and Unsuspend Permissions for Limited Users in the Hercules Portal complete the following steps:
Step 1
Select the "Company Settings" icon from the menu navigation on the left.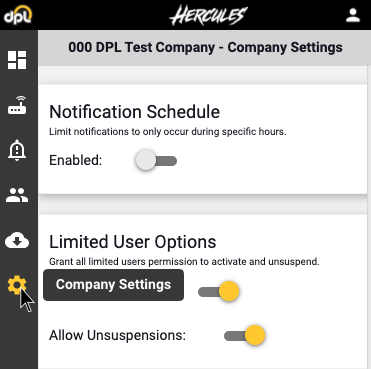 Step 2
Scroll to the "Limited User Options"
Chose to grant all limited users permission by
ensuring that the slider to the right of "Allow Activations" and/or "Allow Unsuspends" is yellow and positioned to the right. Select Apply to save all changes.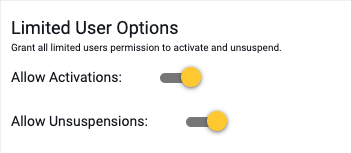 NOTE: Newly ordered Hercules modems can be shipped in either an activated or non activated state at your request. Monthly billing periods begin as soon as Hercules modems are activated. Non activated Hercules modem billing periods do not begin until they are activated.
To learn more about How to activate Hercules modems in the portal click here.
To learn more about How to Suspend and Unsuspend a Hercules Modem click here.